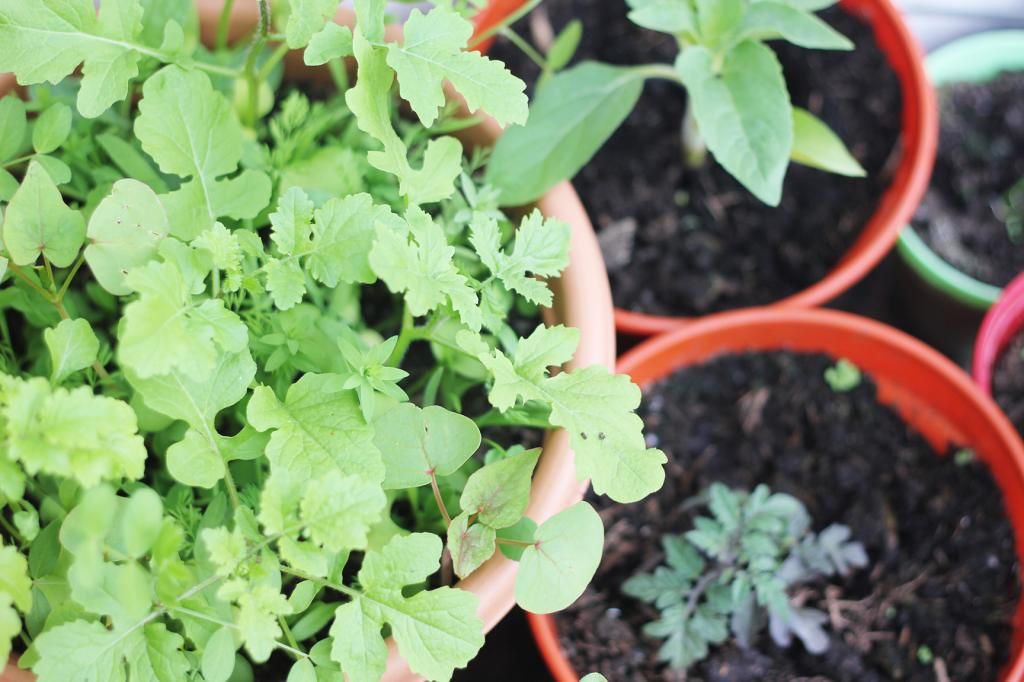 A big tub of mixed wildflowers, all growing nicely.
Runner beans climbing up their bean-cane-tee-pee.
Today I wanted to share an update on how my little fire escape garden is coming along. If you missed my first Gardening Without A Garden post, you can find it
here
. We've had a fair bit of sunshine over the past few days, which has perked my plants up no end.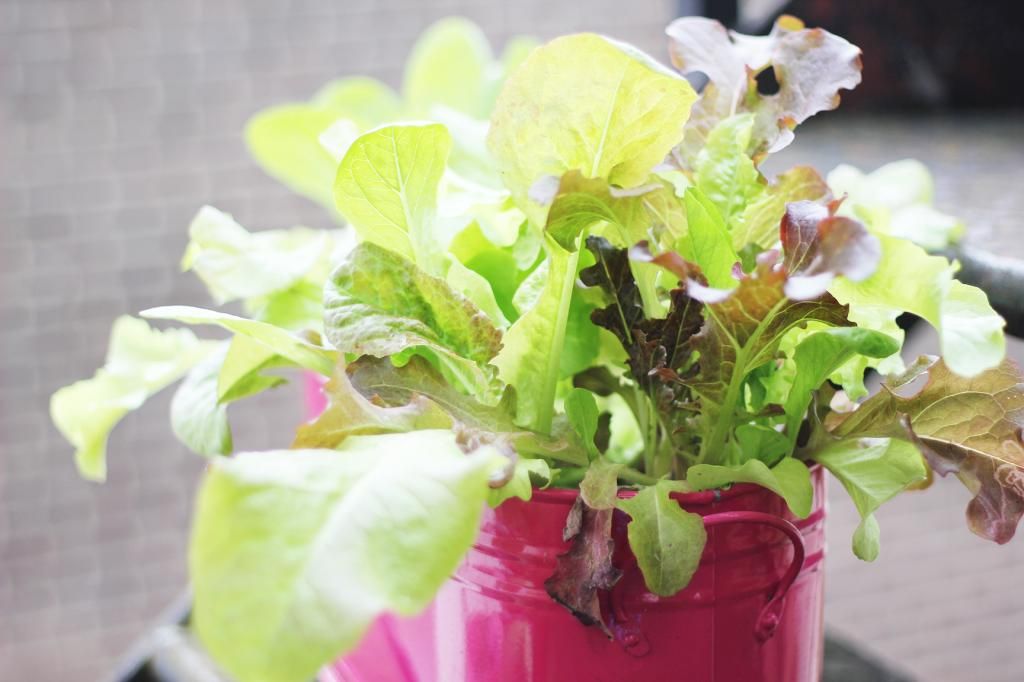 I came home from my parents' to find my lettuce had more than doubled in size! This is the second crop of lettuce - I served up a lovely homegrown salad at a little pizza party I hosted a couple of weeks back.
A tiny sprig from my coriander plant.
Cornflowers growing.
I ran out of flower pots and I didn't want to keep buying cheap plastic ones from the 99p Store, so I saved up a few tin cans. After making drainage holes in the bottom, and two parallel holes in the side of the tin, I spray painted them, wired them to the handrail supports on the fire escape, filled them with soil and seeds, and voila! Recycled mini planters that aren't taking up any of my very limited floor space.
Coriander! The squirrels tried their best to ruin this beauty, but they haven't won yet!
This is probably my biggest gardening disappointment this year, beside the squirrel menaces. I cultivated this tiny seed for weeks and weeks, believing it be a Rosemary plant, but as is now obvious, it isn't a Rosemary plant. I think it's a stinging nettle. The leaves look remarkably nettle-ish and it gave my hand a funny rash when I attempted to have a close look at it! Rosemary is the herb I use the most, so I think I'm going to have to make a trip to a garden centre and buy a plant!
I like gardening. It's a bit of an effort, protecting the seeds from squirrels - you can't really tell in these photos, but I've sprinkled a copious amount of cayenne pepper over everything as a deterrent, as well as carrying jugs full of water through the flat, from the kitchen. But it's worth it. Besides the lettuce, nothing is ready to eat yet, but I'm looking forward to a possible feast of spring onions, tomatoes and runner beans in the distant future!
I hope you've had a good weekend - and had a chance to enjoy the sun! I'm off to clean up my flat - I have a VIP guest visiting this week!
A ♥