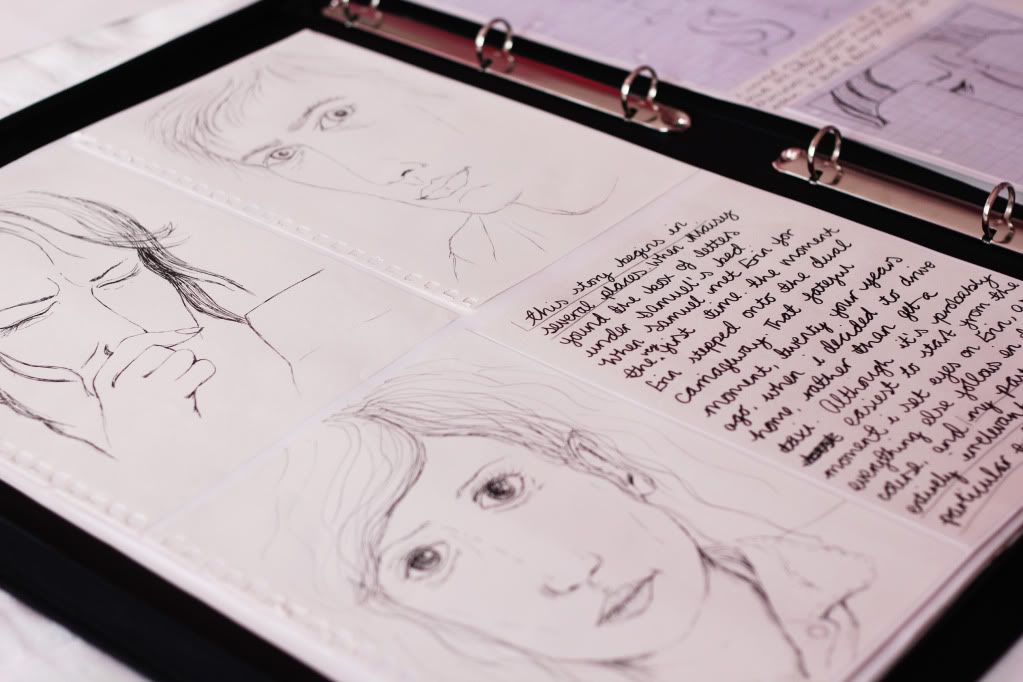 Last week I shared the
first half of my portfolio
- and a little of the story behind my application. This week I want to share the rest of my work, with some background into the projects I selected and some decisions I made regarding presentation.
As I was applying for an Illustration degree (and also because I'm a huge bookworm), most of my projects are based on stories or books. This project here is based on my own writing - I've been working on a 'novel' for the past couple of years, and I selected the opening paragraph to illustrate. As the words were my own, I had an extra insight into the story and the characters, which was a refreshing change!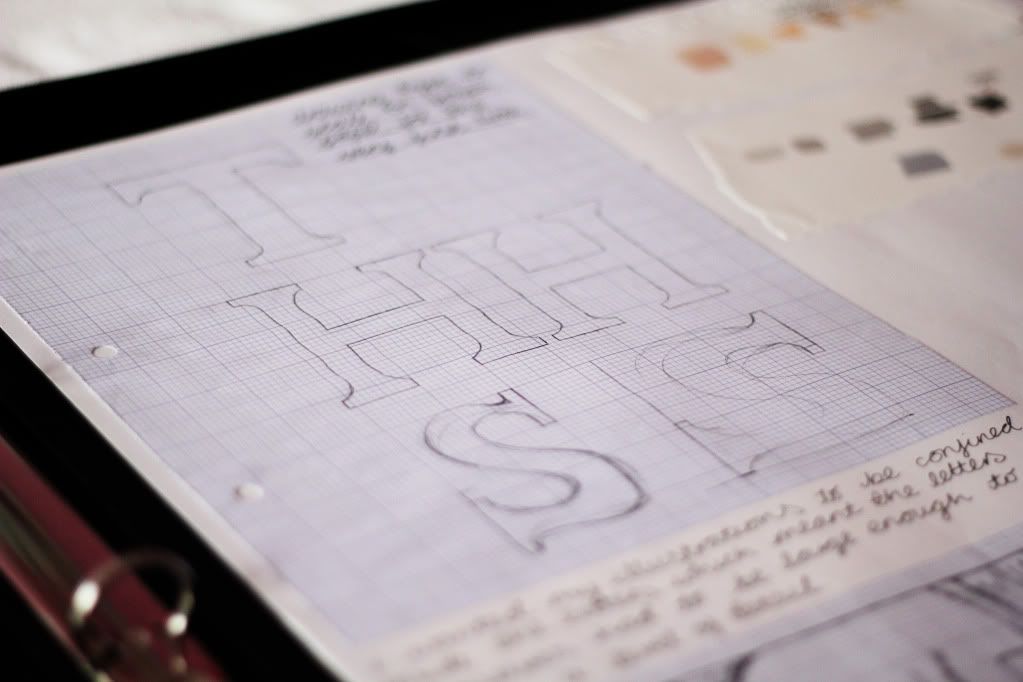 I'm really interested in typography and ended up illustrating the four main characters, using the letters of the first word of the opening paragraph, as a frame.
All of my work is presented on A2 paper and I included lots of sketches and ideas to show the development of projects.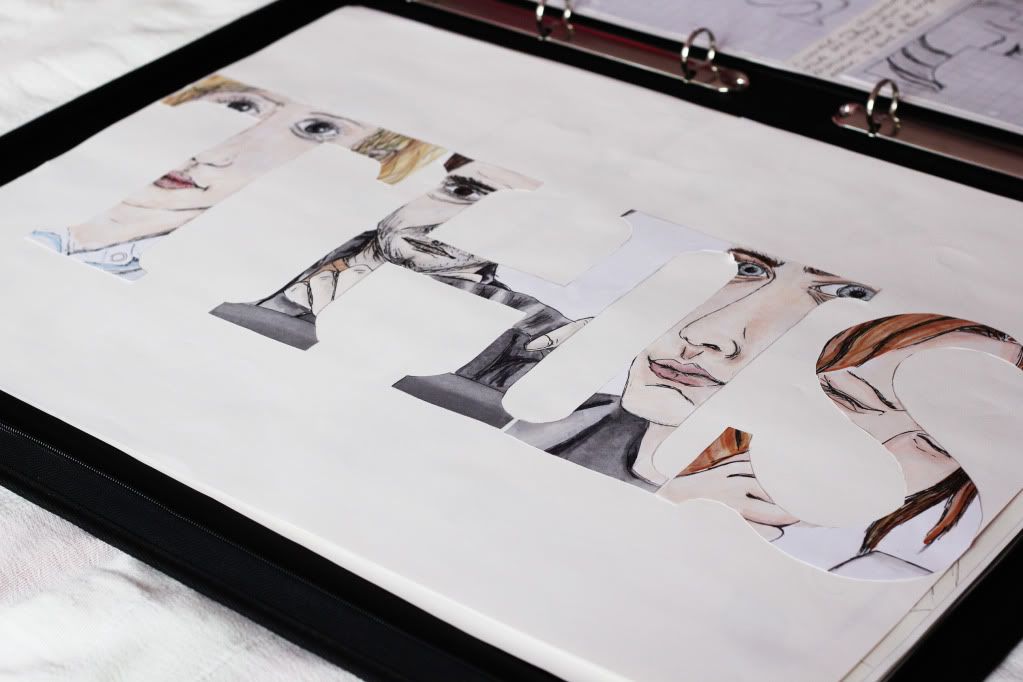 I'm really pleased with the drawing in this project - I tend to avoid faces, clean, clear cut lines such as the ones used here, are unusual for me. It was good to get out of my comfort zone!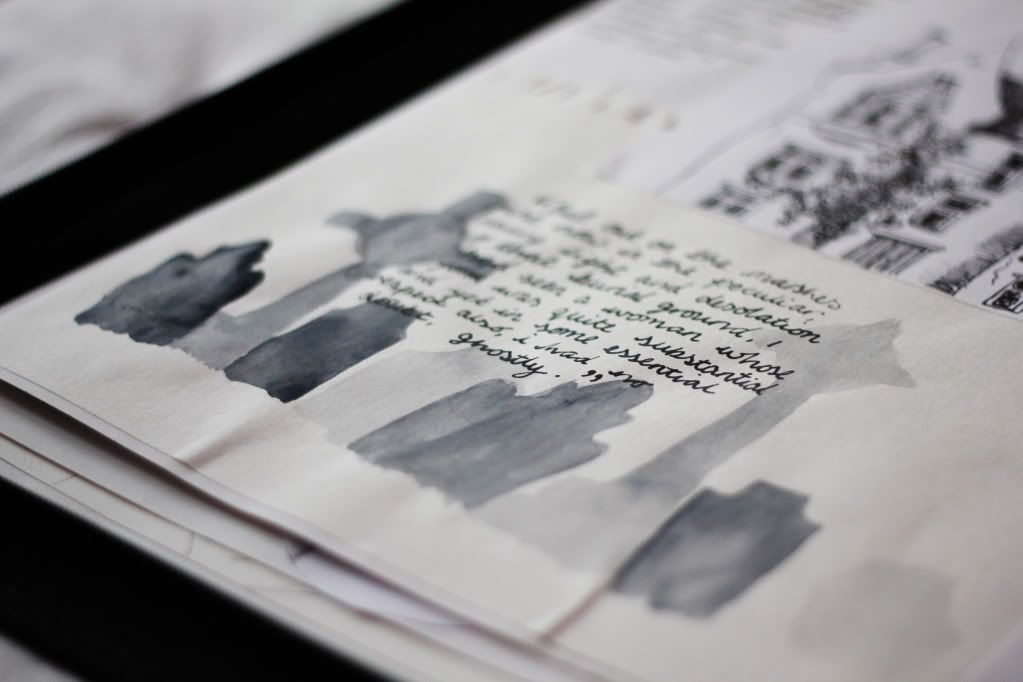 This project is also based on writing, this time on Susan Hill's ghost story
The Woman In Black
. I am a huge fan of the play, having studied it at school and seen it many times, the descriptive passages were perfect for drawing.
Drawings torn from my sketchbook are presented with passages from the book, hand inked with a dip pen.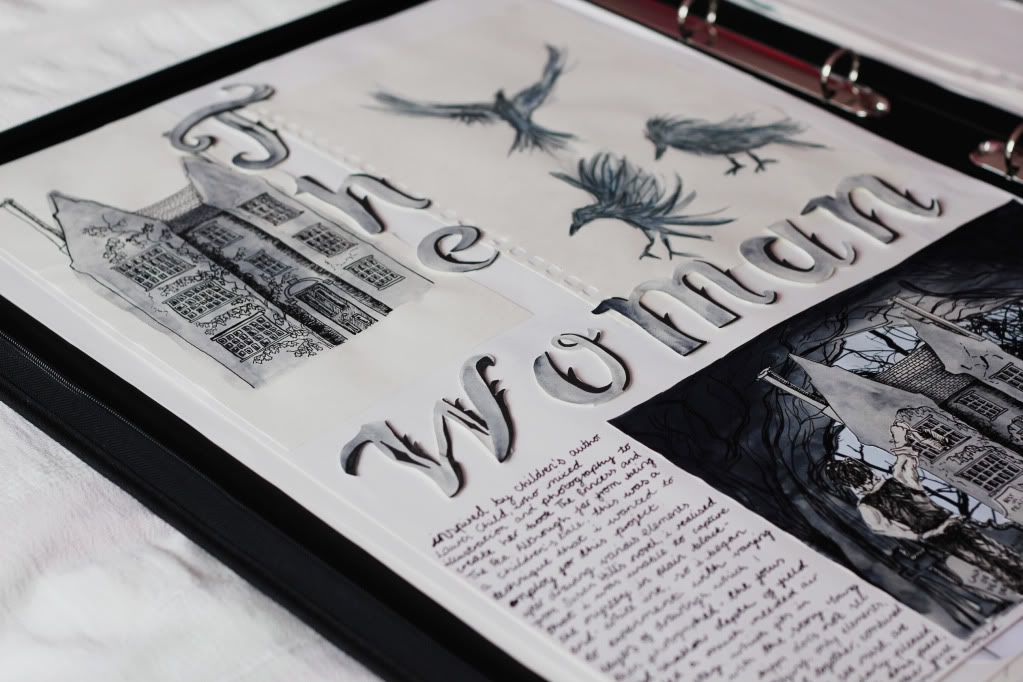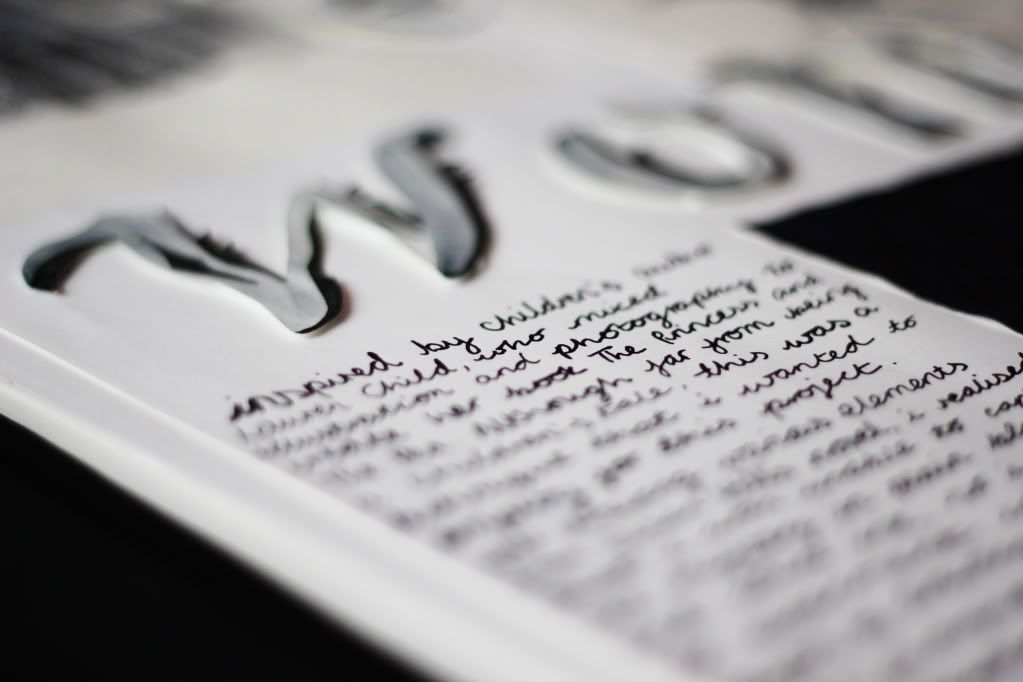 I like to write notes on my work - something I was taught at A Level, much to the disgust of my Art School tutors, I love to explain everything - which comes in handy, as interviewers often look over your portfolio without you being present.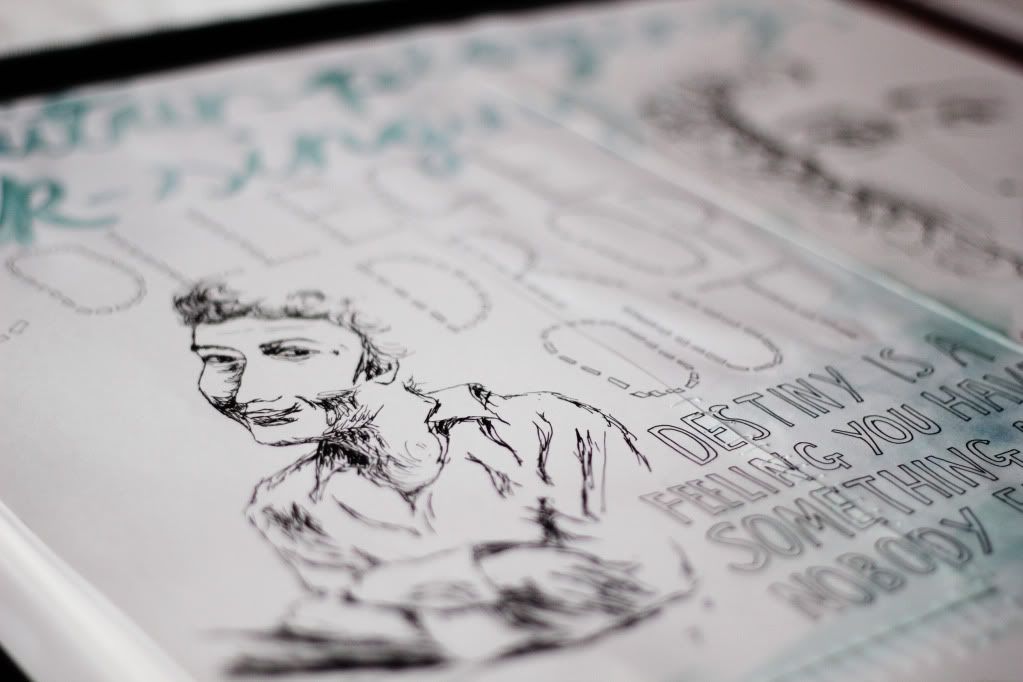 As well as long-winded projects, I included several small ones, these drawings of Bob Dylan being one such project. I wanted to show my capabilities of drawing portraits. I had a little fun presenting them too - stitching panels together and inking Dylan quotes.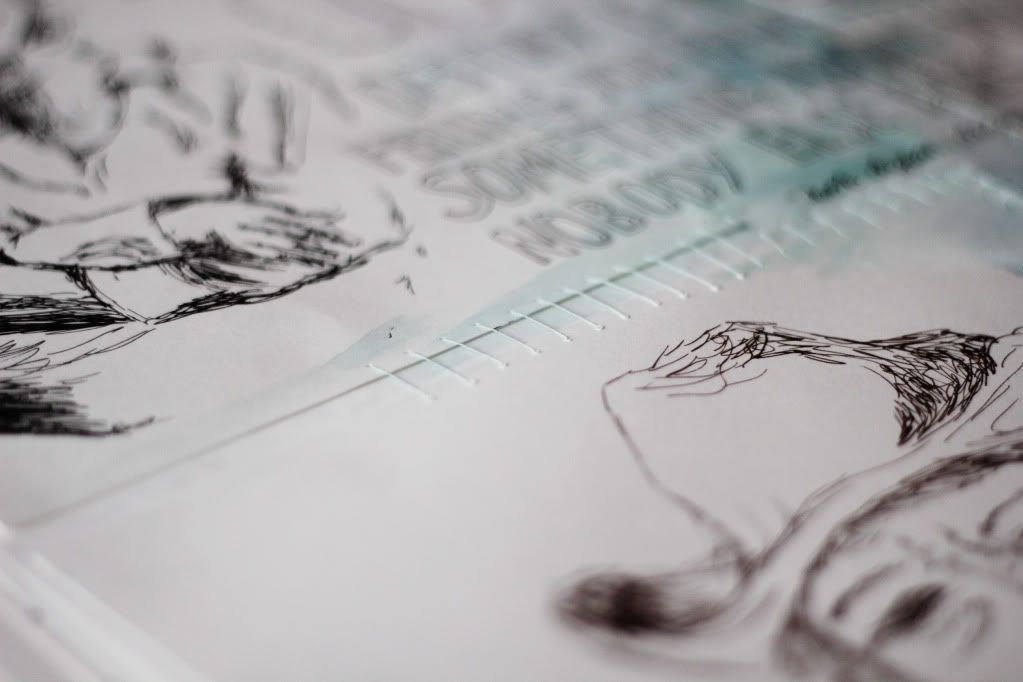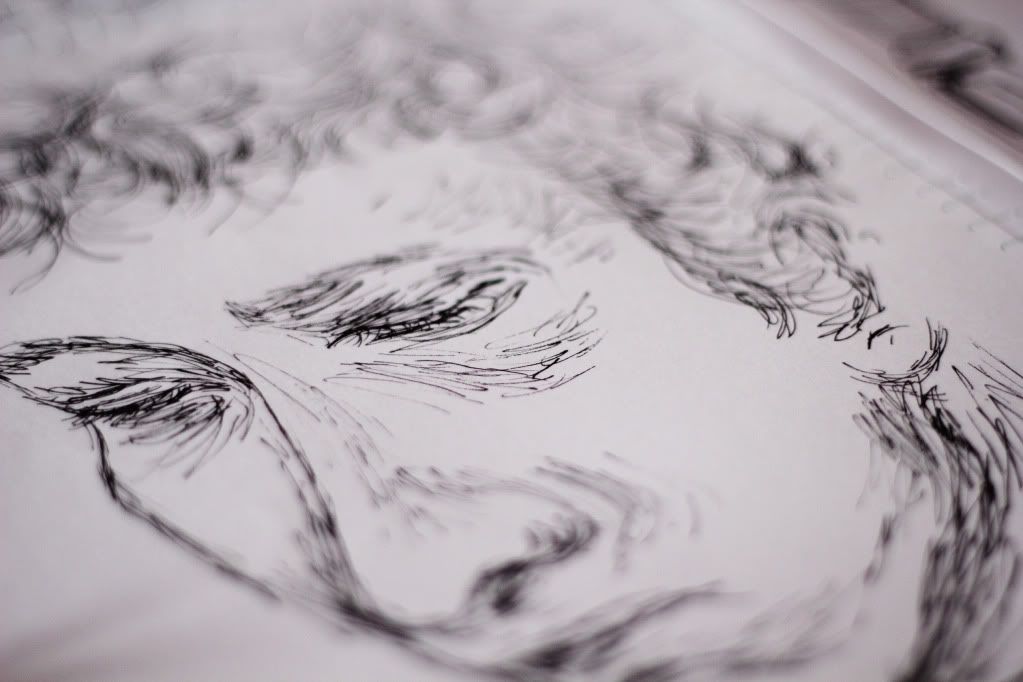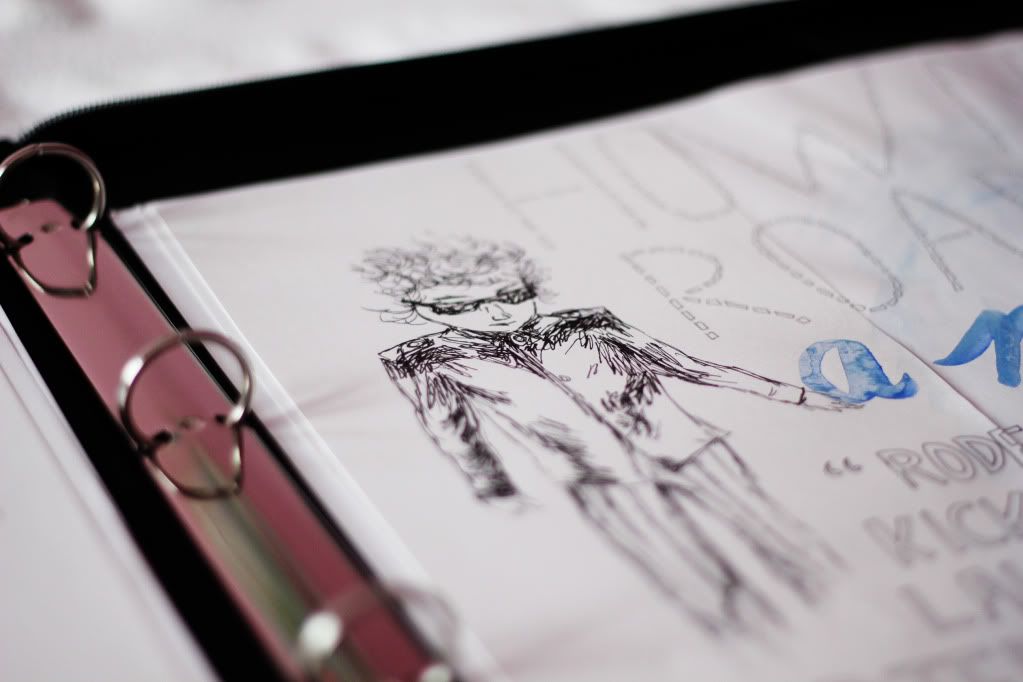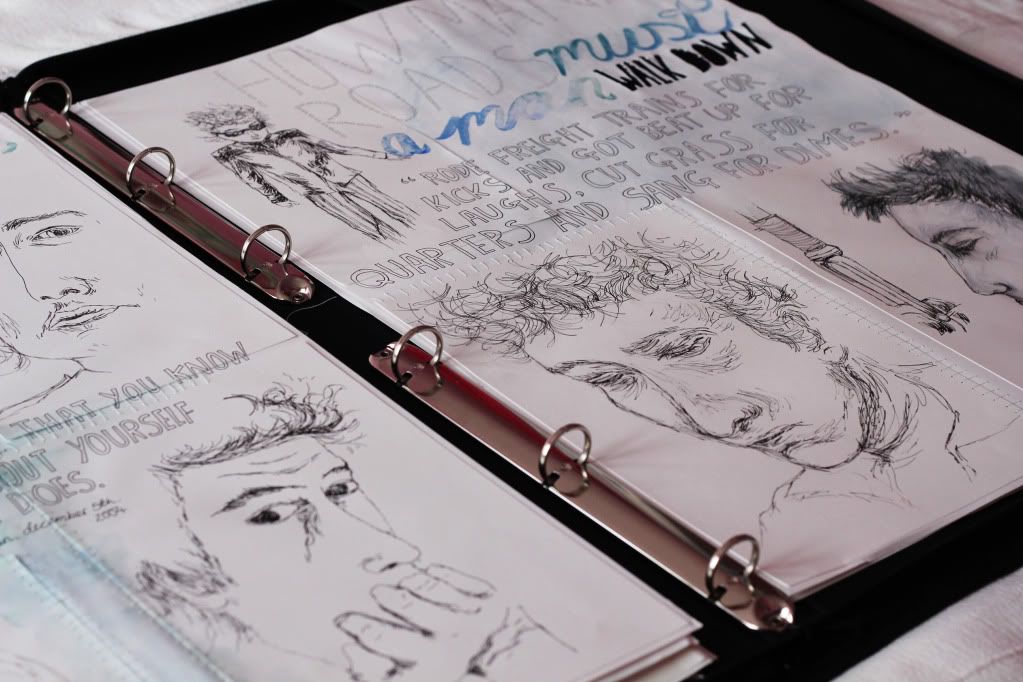 I'd like to point out that all courses look for different things in their portfolio applications - my Fine Art portfolio, from my application two years ago, was very clean cut. Lots of large paintings, presented on A1 white paper, with no development or explanation. Not my style at all! I took a chance with my Illustration portfolio - I wanted it to tell it's own story, for illustration is all about story telling, which is one of the reasons I want to study it.
So there it is. Full of rough edges, masking tape, ink stains and practice pieces. I also included three sketchbooks, and an 'inspiration journal' of visual documentation.
I am very proud of it. It may not be perfect, art-wise, but it's all my own hard work, the product of many long days and late nights and it earned me a place on a fabulous degree course.
There's a moral here somewhere and it's something like this…
"Don't listen to the people who tell you you can't do something. Do it anyway and prove them wrong."
If you're applying for 2013 courses, or like me, starting later this month, good luck! If you have any questions - don't hesitate to ask!
A ♥