It's been a little quiet here on the blog this week - the exact opposite of what it's been like in actual non-virtual life! If you follow me on twitter - you'll probably have seen my stressful outbursts as flat hunting got the better of me. I've been searching for somewhere to move in to in September, when I start my
degree
. I can say with relief that this is now sorted. I went to view a little maisonette flat with my parents on Sunday - and while it's not perfect, nor my "dream home" it's far better than Halls of Residence and will save me a very long commute every day.
So, in about three weeks time I'm going to be moving out of the home I've known for the last twenty years and in to a place not-quite-of-my-own, as I'm renting it with another student, but you get the picture. I'm excited to start making it into a home - I've been writing lists like a maniac, DIY projects that I want to make, Things I need to buy, Things I need to pack etcetera etcetera.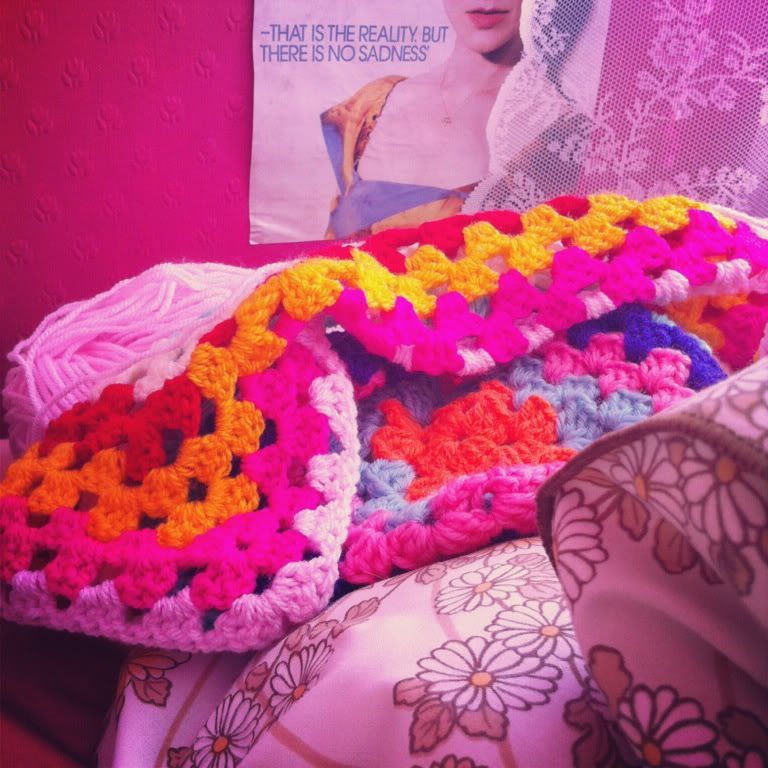 I've been lurking the Home Decor boards on Pinterest to get some ideas and getting thoroughly overexcited! I brought a stack of cardboard boxes home yesterday (one of the perks of working in Retail - a ready access to decent sized boxes!) and I'm going to start a slow-and-steady session of packing everything I need, over the next couple of weeks. I have never moved house before, my family and I have lived in our current house since I was six months old, and I couldn't possibly of imagined how much there is to think about! Every five minutes I suddenly think of something else I need to take with me: bucket/hot water bottle/cutlery - my mind is racing!
In the midst of all the excitement, I've been working hard on my crochet blanket, which is getting pretty sizeable, I have three squares left to do, it's going to brighten up my new little bedroom a lot, I think!
So I'd like to apologise for the quiet here on the blog this week, but I assure you I have not been idling!
Has anyone got any tips on moving out for the first time? I'd love to hear them.
A ♥